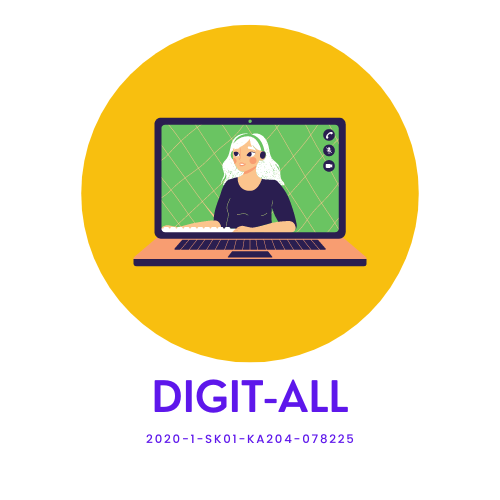 Under DIGIT-ALL project, partners will develop a series of online courses to help adult people with low digital skills to train them through a series of comprehensive courses, and levels.
Each course will be composed of several training modules. Participants on the online courses will receive a digital badge each time they successfully complete a training module. This way, participants can share their achievements in social media, online professional profiles or their Europass CV.
These badges will also motivate them to continue with the full course and to complete all levels of proficiency. Gamification plays a very important role in motivating learners and helps to prevent people from abandoning courses.
The badges will also act as a multiplication tool when participants share their badges, other people will see them and will enrol on the courses. Each badge has an encrypted file
attached with information about the DIGIT-ALL project, the assessment method under has been released and the skills and knowledge that certifies.
The courses will be online, so participants can complete the course at their own pace. Being addressed to adult people with low digital skills the registration and access to the course will be made through the simple registration form. Partners will provide a guidance video to explain the registration and access process. Level 2 students are students with autonomy that may need guidance under some circumstances. (https://publications.jrc.ec.europa.eu/repository/bitstream/JRC106281/web-digcomp2.1pdf_(online).pdf)
The online course will be available for 3 years after the end of the project and all materials will be released as open educational resources, so any person interested in the topic will
have enough time to complete the course and receive all badges; at the same time, other education entities can create courses based on DIGIT-ALL training materials or translate the materials to their national languages.
ADULT EDUCATION: Supporting the setting up of and access to upskilling pathways
Supporting the setting up of and access to upskilling pathways for adults with a low level of skills, knowledge and competencies allowing them to enhance their literacy, numeracy and digital competencies, as well as other key competencies, and to progress towards higher qualifications, including through skills identification and screening or tailored learning offers.
This project will help adult learners to develop their digital competencies and at the same time to certify them under a European framework. This project is targeting the basic digital
skills each adult person should have and will encourage them to continue their training and acquire more advanced skills. For that, partners will pay special emphasis on
gamification, to keep learners motivated and prevent them from abandoning the courses. Cybersecurity will also play an important role, learners should feel safe and know how to act in case of security breaches.
HORIZONTAL: Supporting individuals in acquiring and developing basic skills and key competencies:
The Council of the European Union, on their recommendation from 22 May 2018 on Key competencies for lifelong learning, established a framework of eight key competencies to be developed in all citizens of the EU. Digital competence is one of the eight key competencies from that framework.
The Digital Economy and Society Index (DESI) report from 2018; recorded that in 2017, 43% of the EU population had an insufficient level of digital skills, and 17% had not at all. It is
crucial to develop digital skills in those adult learners with a low level or with no digital competencies at all.
DIGIT-ALL will develop the following courses:
Course 1: Safety.
Course 2: Information and data literacy
Course 3: Communication and collaboration.
Who are the courses for:
– Low-skilled or low-qualified adults.
-Any person interested on the topic.
Project coordinator:
Orbis Institute is a non-government non-profit organization focused on the education and the development of one's personality. It helps individuals to find new sources for their further personal growth and understanding of their role in society.
The Partners
1 Centro Integrado Público de Formación Profesional Misericordia Spain
2 METODO ESTUDIOS CONSULTORES SL Spain
3 UNIAO DAS FREGUESIAS DE GONDOMAR (SCOSME) VALBOM E JOVIM Portugal
4 Social Cooperative Enterprise of Cyclades Greece
5 Ju Srednja ekonomsko-ugostiteljska škola Bar Montenegro
6 Tarsus Ticaret ve Sanayi Odasi Turkey


This material has been funded with support from the European Commission. The content of this material reflects the views only of the authors and the National Agency or the European Commission cannot be held responsible for any use which may be made of the information.